Meet reTerminal, The Next Generation of Human Machine Interface with you, and also a new member of our reThings family. This future-ready Human-Machine Interface (HMI) device can easily and efficiently work with IoT and cloud systems to unlock endless scenarios at the edge.

reTerminal CM4104032 is powered by a Raspberry Pi Compute Module 4 (CM4) which is a Quad-Core Cortex-A72 CPU running at 1.5GHz and a 5-inch IPS capacitive multi-touch screen with a resolution of 720 x 1280. It has a sufficient amount of RAM (4GB) to perform multitasking and also has a sufficient amount of eMMC storage (32GB) to install an operating system, enabling fast boot-up times and a smooth overall experience. It has wireless connectivity with dual-band 2.4GHz/5GHz Wi-Fi and Bluetooth 5.0 BLE.
reTerminal CM4104032 consists of a high-speed expansion interface and rich I/O for more expandability. This device has security features such as a cryptographic co-processor with secure hardware-based key storage. It also has built-in modules such as an accelerometer, light sensor, and an RTC (Real-Time Clock). reTerminal CM4104032 has a Gigabit Ethernet Port for faster network connections and also has dual USB 2.0 Type-A ports. The 40-pin Raspberry Pi compatible header on the reTerminal opens it for a wide range of IoT applications.
reTerminal CM4104032 is shipped with Raspberry Pi OS out-of-the-box. So, all you have to do is connect it to power and start building your IoT, HMI, and Edge AI applications right away!
Also, reTerminal is Microsoft Azure Certified!
You can also enable remote management support
Follow our wiki to set up Mender Client on a reTerminal to access OTA updates from a Hosted or Self-Hosted Mender Server to enable remote management capabilities.
There are limitless possibilities with the reTerminal. It can be placed at the heart of an IoT/Edge system where you could connect a number of sensors to the reTerminal via different wireless protocols such as LoRa, Zigbee, Wi-Fi, Bluetooth, Sub-1G, and the reTerminal connected to the cloud via Ethernet, Wi-Fi, 5G/ 4G or connected to an edge server to store and process the data.
On the other hand, it has a modular design where you can expand this system by connecting different modules to the reTerminal via the 40-Pin GPIO connectors and enable even more applications. You can easily plug modules such as mic array & speaker, camera, industrial I/O, LoRaWAN, 5G/4G, and PoE to realize your ideas! It will be supported by an active community as well!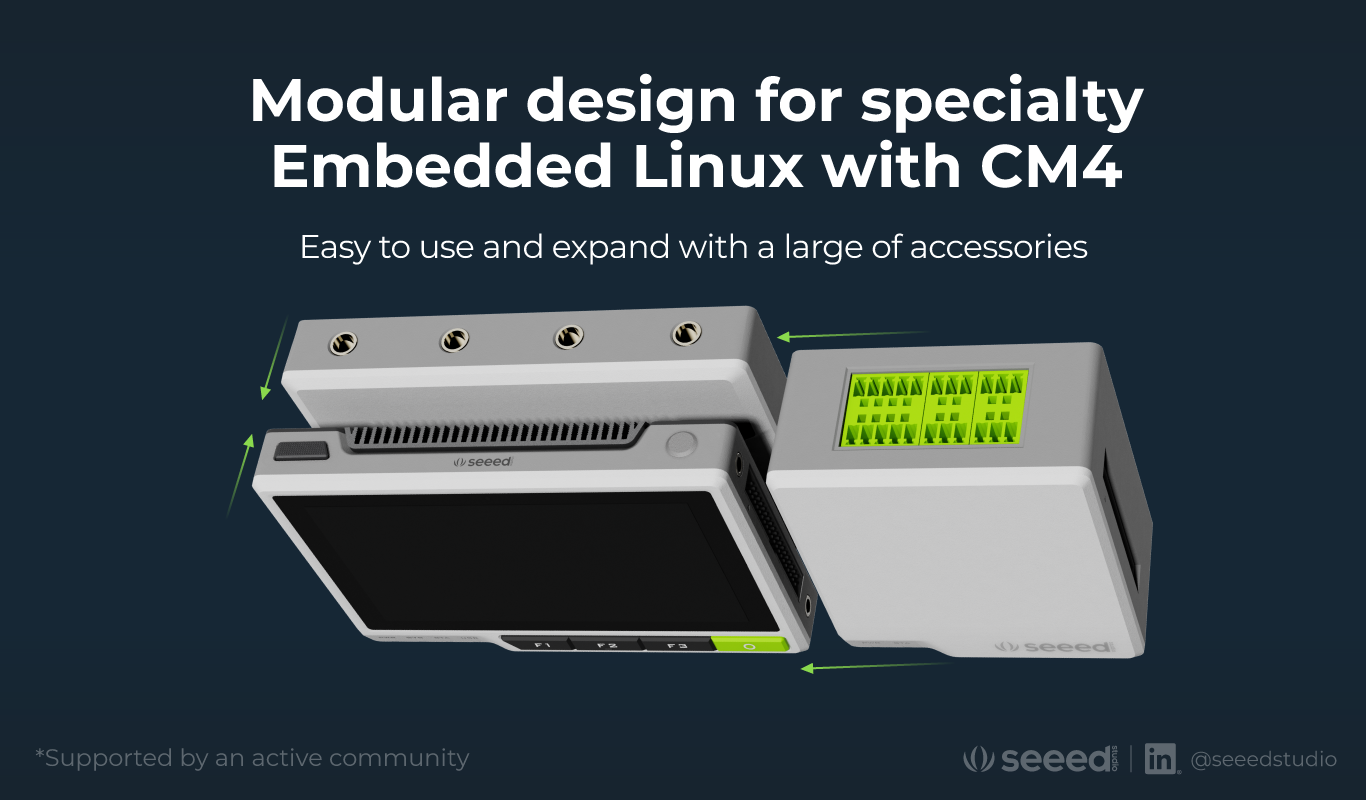 reTerminal is packed with rich interfaces on the side of the device while keeping the design to a minimum. It has a USB Type-C port for power input, a Gigabit Ethernet port for faster and reliable network access, a micro-HDMI interface that supports video output at 4K resolution with a frame rate of 60fps, and also has 2 USB Type-A ports.
Furthermore, it also has a high-speed expansion interface with a PCIe 1-lane Host, Gen 2 (5Gbps), USB 2.0 port, 28 GPIOs, and PoE. You can use this interface for industrial and more advanced scenarios!
reTerminal also features a 5-Inch IPS capacitive multi-touch screen with a resolution of 1280 x 720 and a pixel density of 293 PPI, providing high definition and rich colors. This resolution is 1.6 times higher than the most common resolution for 5-inch displays, which is 800 x 480. Also, compared to TN displays, the IPS display on the reTerminal offers better viewing angles as well!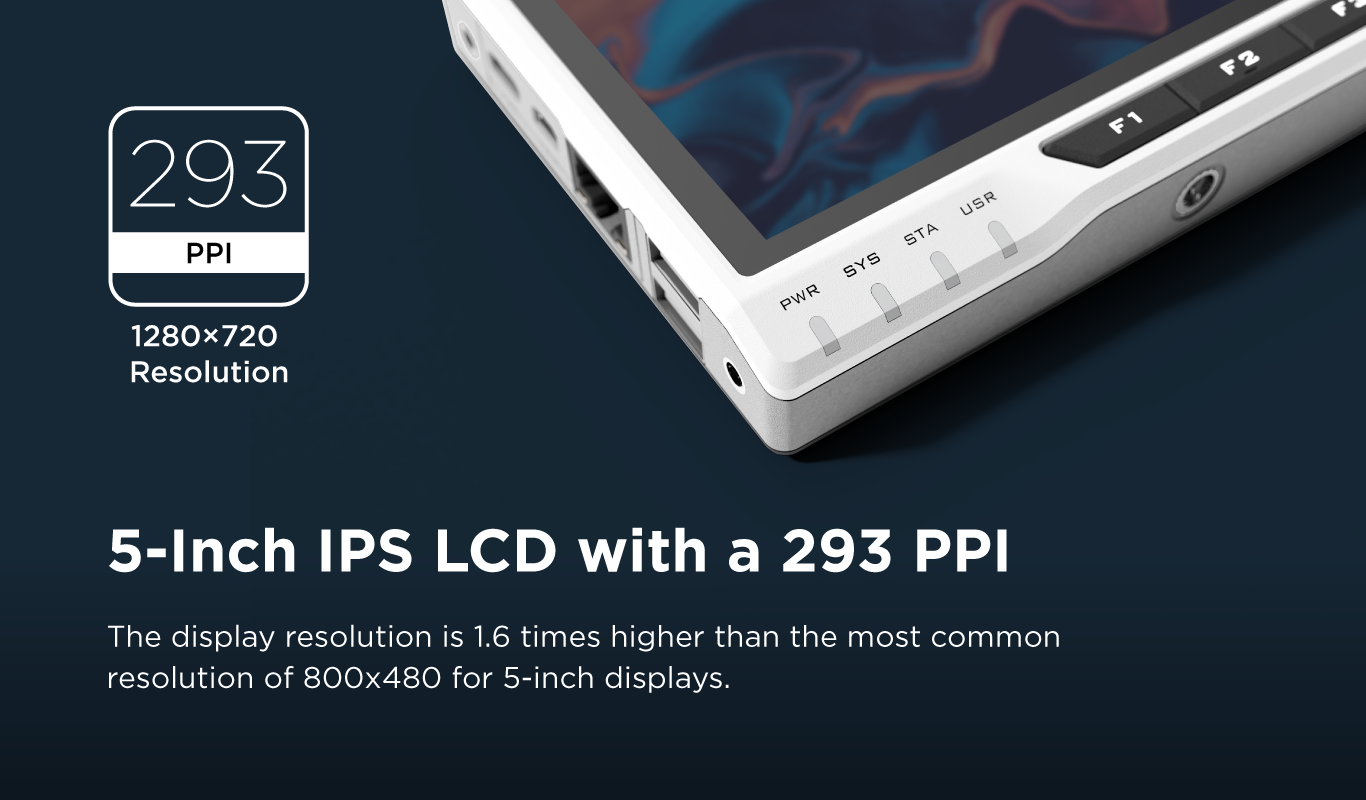 reTerminal has security features such as a cryptographic co-processor with secure hardware-based key storage. It also has protected storage for up to 16 keys, certificates, or data. It provides hardware support for a symmetric sign, verifies, and key agreement – ECDSA. It has hardware support for symmetric algorithms, networking key management, and secure boot.
Highlighted Features
Integrated modular design with high stability and expandability
Powered by Raspberry Pi Compute Module 4 (CM4) with 4GB RAM & 32GB eMMC
5-Inch IPS capacitive multi-touch screen at 1280 x 720 and 293 PPI
Wireless connectivity with dual-band 2.4GHz/5GHz Wi-Fi and Bluetooth 5.0 BLE
High-speed expansion interface and rich I/O for more expandability
Cryptographic co-processor with secure hardware-based key storage
Built-in modules such as accelerometer, light sensor, and RTC
Gigabit Ethernet Port and Dual USB 2.0 Type-A ports

Pre-installed heatsink for higher performance

40-Pin Raspberry Pi compatible header for IoT applications
reTerminal is Microsoft Azure Certified
Remote management support from partner

Mender.io

(OTA software updates, configuration, troubleshooting, remote terminal access)
The best Raspberry Pi device with a 5-Inch multi-touch screen
High-performance Raspberry Pi CM4 tablet
Applications
Embedded Linux Terminal Device
Smart Factory
Smart Warehouse
Smart Home
Machine Learning and Edge AI Applications
IoT Controller
Hand-Held Device
Specifications
Specification
Details
Platform
Processor
Broadcom BCM2711 quad-core Cortex-A72 (ARM v8)
Frequency
64-bit SoC @ 1.5GHz
Memory
Capacity
4GB
Technology
LPDDR4 with on-die ECC
eMMC
Capacity
32GB
Wireless
Wi-Fi
2.4GHz and 5.0GHz IEEE 802.11b/g/n/ac
Bluetooth
Bluetooth 5.0, BLE
Display
LCD
5-inch 720x1280 LCD
Touch Panel
Capacitive touch panel (support multi-touch)
Video
HDMI
1 x Micro HDMI output (up to 4Kp60 supported)
CSI
1 x 2-lane MIPI CSI camera interface
Multimedia
H.265 (4Kp60 decode)
H.264 (1080p60 decode,1080p30 encode)
OpenGL ES 3.0 graphics
Built-In Modules
Real-Time Clock
NXP Semiconductors PCF8563T
Low backup current; typical 0.25μA at VDD = 3.0 V and Temperature = 25 ℃
Accelerometer
STMicroelectronics LIS3DHTR
16-bit, ±2g/±4g/±8g/±16g dynamically selectable full scale
Encryption
Microchip ATECC608A
Secure Hardware-Based Key Storage, Asymmetric Sign, Verify, Key Agreement
Light Sensor
Levelek LTR-303ALS-01
Digital light sensor
Internal IO
Expansion
Microchip MCP23008-E
Buzzer
≥85dB @10cm 2700±300Hz
External I/O
GPIOs
Up to 5 × UART
Up to 5 × I2C
Up to 5 × SPI
1 × SDIO interface
1 × DPI (Parallel RGB Display)
1 × PCM
1 × PWM channel
Up to 3× GPCLK outputs
Vertical expansion
interface
1 × PCIe 1-lane Host, Gen 2 (5Gbps)
1 × USB 2.0 port (highspeed)
26 x GPIOs
POE
Power
Voltage
5V DC
Current
3A(Minimum)
Temperature
Operating Temperature
0 - 70°C( For the LCD Screen: 0 - 60°C)
Mechanical
Dimensions
140mm x 95mm x 21mm
Weight
285g

Certification

Certificates
CE, FCC, TELEC(211-210815)