Odyssey Blue J4105 128 GB is a powerful mini PC with super low power consumption. It's a perfect device for industrial and commercial applications. You can use it as office equipment or a compact gaming PC. The compact design makes it easy to keep your desk clean and neat. With 4k HD video output, you can easily build your own home entertainment with ODYSSEY Blue.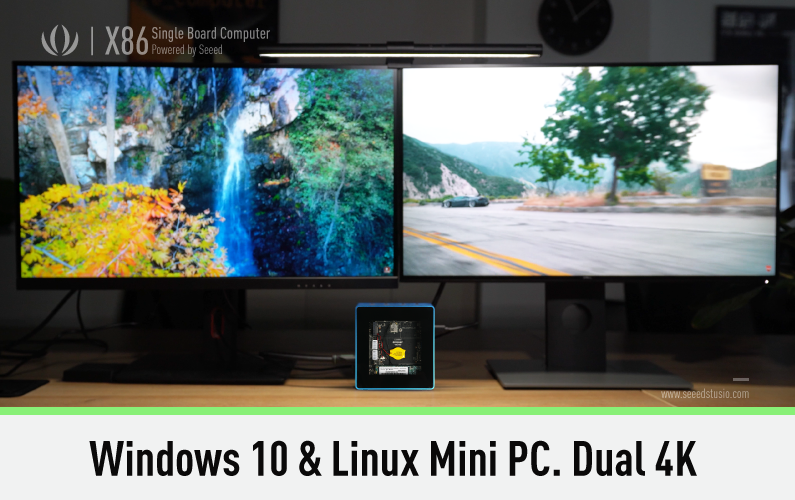 We also have Windows 10 pre-installed. Just simply connect it to a mouse, a keyboard, and a monitor with the ODYSSEY Blue. You can start playing your favorite game right away.
Are you a Linux user? Just install your favorite Linux distribution! ODYSSEY Blue provides full support for popular Linux OS, like Ubuntu, Mint, Manjaro, etc.
The J4105 supports Intel Hyper V virtualization and can be virtualized with Promox or VMware ESXi to create multiple instances or install multiple systems which makes it perfect for the homelab option.
For more information, please check this blog for ESXi installation.
With Dual Gigabit Ethernet, you can build the OpenWrt project and pfSense with ease. There are also two M.2 PCIe (B Key and M Key), which enable various expandable capabilities including Hard Drives, SSD, GPU, 4G, and even 5G cellular network connectivity.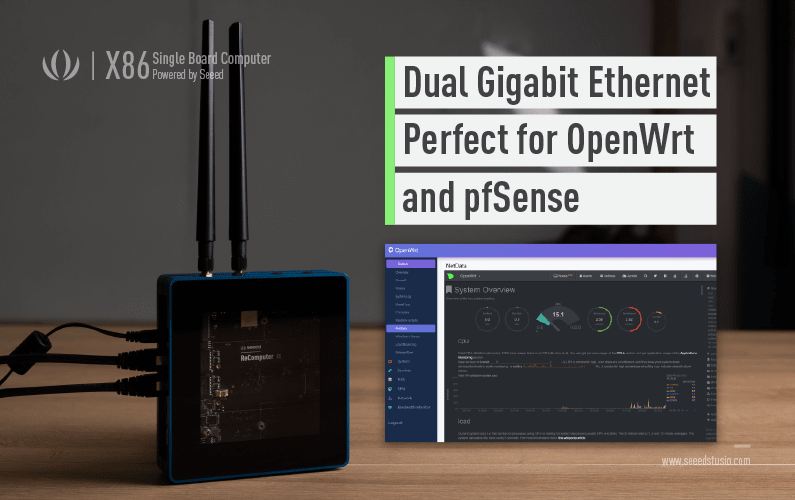 The ODYSSEY Blue J4105 128 GB is more than just a computer, with the Arduino Co-processor onboard, it can be used to connect with sensors, a gyroscope, and much more. 
OpenWrt Supported
You can flash OpenWrt firmware to this board and turn this board into a software router!
OpenWrt is an open-source Linux operating system that runs on embedded devices/ routers. It offers more features, performance, and security than a traditional router. It has a filesystem that's fully writable and includes a package management system. You can make use of these packages to suit your applications in various ways. Once you connect this board to your home network and access the router from a web browser, you will be presented with a beautiful and interactive dashboard as follows.
You can navigate in this dashboard, and you will have access to a bunch of features such as:
Increase overall network performance when multiple devices are connected
Share files between devices via an external storage drive connected directly to the router
Increase network security
Run a BitTorrent client from the router
Connect a printer directly to the router to create a networked printer
Limit bandwidth usage of a particular device in the network
Active queue management
Real-time network monitoring
Create Dynamic DNS
Set Up a VPN client or server
Block ads on the network
By utilizing the above features, you will have unlimited possibilities with this mini router!
Highlighted Features
Intel® Celeron® J4105, Quad-Core 1.5-2.5GHZ
Dual-Band Frequency 2.4GHz/5GHz WiFi
Intel® UHD Graphics 600
Dual Gigabit Ethernet
Integrated Arduino Coprocessor

 

ATSAMD21 ARM® Cortex®-M0+
Raspberry Pi 40-Pin Compatible
2 x M.2 PCIe (B Key and M Key)
Support Windows 10 & Linux OS
Compatible with Grove Ecosystem
No onboard eMMC but

 

equipped with 128g SSD
Packed with

 

re_computer case
Pre-installed Windows 10 (Unactivated)
Applications
A powerful Desktop Mini PC that can run Windows and Linux OS.
OpenWrt projects and pfSense with Dual Gigabit Ethernet.
Hard Drives, SSD, GPU, 4G, and even 5G cellular network connectivity with two of M.2 PCIe (B Key and M Key)
NAS (Network-Attached Storage)
High-performance Virtual Router
4G LTE Gateway
Program Arduino with onboard ATSAMD21 Core, an ARM Cortex-M0+ MCU
Documentation
Data Sheet
User Manual