5-in-1 Compact Weather Sensor
Pickup available at EUCA Head Office
Usually ready in 24 hours
5-in-1 Compact Weather Sensor
EUCA Head Office
Pickup available, usually ready in 24 hours
Clearwater Office Park
Block H Ground Floor
Boksburg
Gauteng
1459
South Africa
+27123623271
The SenseCAP S500 5-in-1 Weather Sensor measures air temperature, relative humidity, barometric pressure, light intensity, rainfall (optical), wind speed, and wind direction (ultrasonic). It is ideal for application in a rough environment like outdoor, agriculture, or smart cities.
Highlighted Features:
5 parameters to measure: air temperature, relative humidity, barometric pressure, wind speed, and wind direction
Embedded with the electronic compass / magnetometer: enabling easy installation and you can choose to disable the electronic compass while orienting to the North manually.
A flange plate and 3m cable are included in the package for the pole mount
IP66 rated: waterproof, and dustproof, suitable for outdoor scenarios
Integrated heaters that can be switched on in extreme weather
Ultrasonic wind speed & direction sensors without moving parts
Radiation shields are equipped to ensure accurate ambient measurement.
Supported interface: RS 485 (MODBUS-RTU) / 232 / 422 (Modbus) / SDI-12
Calibrated and maintenance-free
CE and FCC certified
Today, data on localized weather, known as microclimates, is the new frontier for more precise and accurate weather forecasting. As a result, the collection of weather data is becoming increasingly smaller and gridded. In light of this, weather stations, which are the most convenient means of collecting weather data, are seeing a rise in demand.

This SenseCAP ONE S500 5-in-1 Compact Weather Sensor can help you collect and monitor environmental and weather data, which are crucial in different application scenarios such as smart city projects and etc. The SenseCAP ONE S500 is equipped with sensors to measure the 5 parameters: air temperature, relative humidity, barometric pressure, wind speed, and wind direction.

SenseCAP ONE S500 is IP66 certified, and it features strong robustness to withstand even the toughest outdoor environment. The Sensors to measure wind speed and wind direction use ultrasound instead of traditional mechanical 3-cup or vane anemometer. The advantage of using ultrasonic sensors is that reducing the movable parts can make the sensor less likely to break and thereby is easier to be maintained without any sacrifices in precision or manpower.

The SenseCAP ONE series uses the RS 485 (MODBUS-RTU) / 232 / 422 (Modbus) / SDI-12 communication protocol. Hence, the SenseCAP ONE compact weather sensor can be used with any datalogger that supports RS 485 (MODBUS-RTU) / 232 / 422 (Modbus) / SDI-12.

We also provide the SenseCAP Sensor Hub 4G Data Logger (supporting solar power and DC wall power) that can be used with the SenseCAP ONE series weather sensor. The data can be transmitted to the Sensor Hub and then to the SenseCAP server or a private server. If you choose to use the SenseCAP server, we also provide an API for you to easily make your own applications.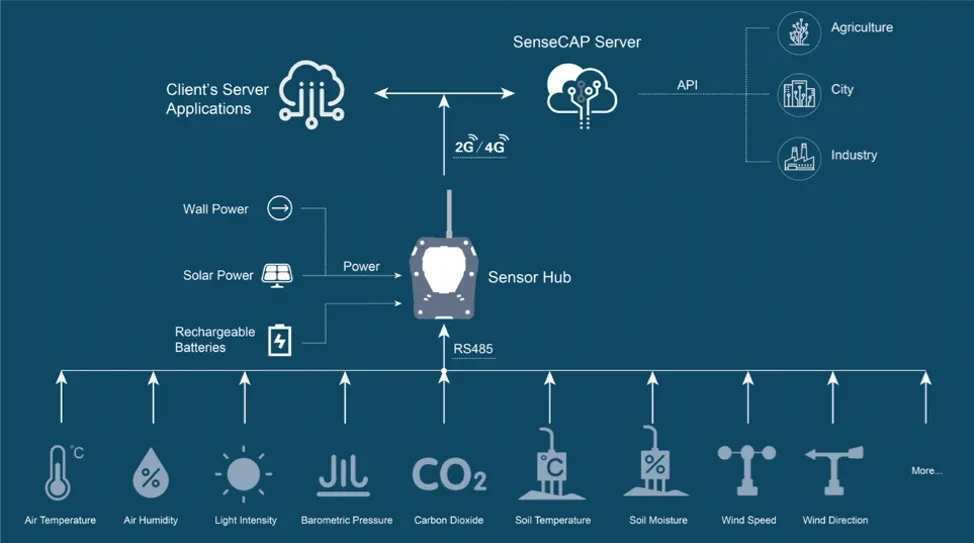 In what environment does this Weather Sensor operate?
This Weather Sensor operates in outdoor environments.
What measurements does this Weather Sensor support?
This device supports the following measurements: air temperature, relative humidity, barometric pressure, light intensity, precipitation intensity, wind speed, and wind direction.
SenseCAP All in One User Manual
Specifications:
General Parameters

Parameters Measured

air temperature, relative humidity, barometric pressure, wind speed and wind direction
Protocol
RS 485 (MODBUS-RTU) / 232 / 422 (Modbus) / SDI-12
3m

Operating Temperature & Humidity

-40 °C ~ + 85 °C, 0 ~ 100%RH

Device Weight
2kg
Air Temperature

Range
- 40 °C ~ + 85 °C
Accuracy
± 0.1℃
0.01 ℃
Air Humidity
Range
0 ~ 100% RH
Accuracy
± 1.5% RH
0.01% RH
Barometric Pressure

Range
300 ~ 1250 hPa
Accuracy
± 50 hPa
10 Pa
Wind Speed (Ultrasonic)

Range
0 ~ 60 m/s
Accuracy
± 3%
0.1 m/s
Wind Direction (Ultrasonic)

Range
0 ~ 360 °
Accuracy
± 3°
0.1°
For more information visit Seeed Studio.
SHIPPING INFORMATION
Local Delivery/Shipping (South Africa)
EUCA makes use of trusted local carriers for deliveries within S.A.
Flat Rate of R250 applies to all major regions (JHB, DBN, CPT etc.)
Orders over R2500 get FREE LOCAL DELIVERY 
The Rest of the World
DHL Express: When you ship with DHL Express – you're shipping with specialists in international shipping and courier delivery services! ± 2 to 5 working days delivery DHL connects people in over 220 countries and territories worldwide. ( Terms & Conditions )
UPS Express Saver: From S.A to - Europe, UAE, Asia ± 2 to 5 working days, day-time parcel delivery, for peace of mind.
* Delivery times are estimated only
Your shipping/delivery address should be provided in English and without the use of special characters/symbols, to assist the courier/carrier company in recognizing your address in the system.
*We will ship according to the shipping address provided at the time of checkout.
GENERAL TERMS
All items are inspected before dispatch and are carefully hand-packed by a EUCA team member.
All Estimated Delivery dates are seen on any particular product page, upon check out as well as in your Payment Confirmation email.

In general, once stock is dispatched from the EUCA store shipping can take anything between 2-7 working days, dependent on the region that the shipment is being delivered to.

EUCA cannot be held liable for a shipment being bumped off a flight for customs inspection while en-route to the customer, this is usually performed at the sole discretion of the carrier.

With standard courier practice, you need to check the contents of the parcel before signing for your goods.

If you do not we can't be held responsible for any damage that may have occurred during transit.

Shipments cannot be delivered to PO boxes or postal codes.
CUSTOMS, DUTIES & TAXES
You should expect to pay any amount charged by the government in your respective country. This includes, and is not limited to, duties, taxes (VAT) and any extra fees charged by the courier company. 
EUCA will not hold responsibility for any extra charges once the original package has been shipped. If the customer refuses to pay these extra charges, the return shipping and any additional fees will be taken out of the cost of the order, with any remaining funds being refunded to the customer.
We understand that Customs/Duties requirements are different in each country, please provide us (customer care team) with a note during checkout with any special requests, we will do our best to support requests to the best of our capabilities.
SHIPPING FAQs
Q: What does my Order status mean?
A:
Accepted - This is to let you know that we've received your order, Please ensure your contact and shipping information is correct, this will assist us in getting your order out on-time.
Processing - Your Order is being processed. We will send an updated email once your order has been packaged.
Packaged - Your order has been packaged and is almost ready to leave our warehouse. ​You will soon be receiving confirmation that your order has been shipped, so keep a lookout for this confirmation and tracking number over the next 24-48 hours.
Shipped - Your order is being dispatched at this moment. You will be receiving Shipping information shortly, if you haven't received it already.
Delivered - Your order has been Delivered!
Cancelled - Your Order has been cancelled at your request.  We will issue your refund back to your account via the payment method that was used to originally place this order. The refund can take anything between 3-10 days to reflect, after this time if you have still not received any notice, we ask that you reach out to us so that we can check the progress.
( 10% Handling Fees apply* )

On Hold - Your Order has been placed on hold. This means we are still waiting for an alternative shipping address due to there being strict customs in your region OR do not have enough information to complete your order.


Q: What are my delivery options and how much does it cost?
A: Standard Shipping (free shipping over R2000) Local delivery & Aramex, DHL Express, UPS Saver for International delivery. NOTE: Rates are available and worked out upon checkout.
Q: When will my order be delivered?
A: We'll deliver your order by the Estimated Delivery date seen on the particular product page, upon check out as well as in your Payment Confirmation email.
Q: Can I change my delivery address after I have ordered?
A: It is not possible to change your delivery address after confirming your order, so please ALWAYS check that your delivery details are correct at checkout. - To change your delivery address permanently for future orders, you can update your Address Book under your Customer Information in your account profile by following this link.
Q: Can I split my delivery, sending in-stock items first and the rest later?
A: On every product page, you can see whether an item is 'in-stock' at our warehouse or if there is a 'lead time' period on an item (the time it would take for us to order the item from a supplier). For the most efficient delivery service, we wait until all of your items arrive with us before delivering them to you in one go. This means that some items with a longer lead-time could hold up the delivery of your order.
Q: What happens if a product is missing from my delivery/shipment?
A: Please complete our Customer Service form, providing us with your order number and visual confirmation of the item/s missing from your order, then one of our Customer Service assistants will contact you shortly.
Q: Can I reschedule my delivery?
A: No, once the stock arrives at our store it is in EUCA's interest to ship the item/s to the customer with immediate effect.